BPI Cebu Corporate Center - LOCATION
BPI Cebu Corporate Center is located in a convenient, secure and attractive neighborhood of Cebu City, Cebu. It's, in fact, the only development so far in Cebu that provides professional workspace for businesses looking for the best working environment. The perfect location matches its unique design featuring a glass façade that soars to greater heights not reached by any other property yet. Its master plan makes it a distinct corporate center conveniently located in Cebu.
Indeed, this outstanding 18-storey condominium sets a high standard for those developers interested in coming up with similar properties in the area. They will have to give it their all and up their game if they are to compete with this amazing building that has won the hearts of many in Cebu City and beyond. The center is along the Mindanao Ave, making it easily accessible from all parts of the Cebu Business Park. Aside from being the country's capital city, the site is also popular as a leading business center for both local and multinational companies.
Almost every great multinational company has got an office in this beautiful city that continues to inspire and attract businesses from all parts of the world leaders. If you are still weighing options or considering getting a space in this center, then time has come for you to make up your mind. You, of course, want to invest in a central place where you can access all auxiliary services you need. We consider BPI Cebu Corporate Center located in a perfect place because:
 
•    Cebu is the economic epicenter of Southern Philippines
•    The center hosts the country's busiest seaport
•    It's the home of renowned local and multinational companies
•    The country's second largest international airport is found in Cebu
•    It's a popular destination for leisure and living in the region

What else do you need when you already have a perfect location for your business? You just need to acquire space and your journey to realizing your dream will kick off immediately. Once you are here, you won't be worried about getting what you need to thrive. If it's connection to the outside world, the airport is nearby. If it's leisure, you are assured of getting everything you need to enjoy yourself. Most importantly, getting a working space in BPI Cebu Corporate Center gives you an assurance of getting a promising customer pool that will drive your business to the greater heights you aspire to attain. However, you'll only enjoy all these if you have a space for living or carrying out business is this iconic tower in Cebu City.
If you intend to venture into any business, the location will determine whether or not you'll succeed in your venture. Taking your business to areas without the necessary infrastructure is as good as finding a way to exit your industry and leave it to those who know what it takes to build a successful business. On the other hand, finding the best location is an assurance of success holding all other factors constant. BPI Cebu Corporate Center gives you a chance to own a working space in the beautiful and industrial city of Cebu in Southern Philippines.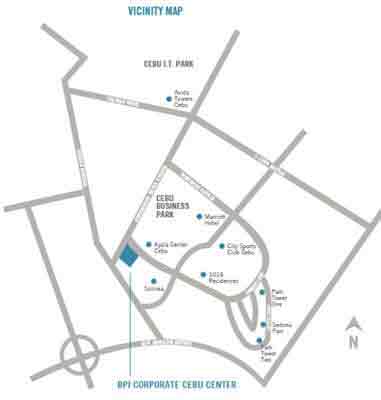 Cebu, The Gateway to the Visayas.
BPI Cebu Corporate Center is At the crest of trade and commerce, Cebu is the economic heart of the Southern Philippines. This is where the country's busiest seaport and second-largest international airport are found, the home of foremost local and multinational companies.
Within: the City's urban renaissance, Cebu Park District. The Large-scale redevelopment program takes everyday a step up, integrating the vitality of Cebu Business Park and the vibrancy of Cebu IT Park. Two distinct, mixed-use communities, joining forces as the region's number one destination for business, leisure, and living.